MANILA, Philippines — Aptly titled In10city: A decade of intense film experience, the 10th edition of the QCinema International Film Festival is offering an "intense" roster of featured films this year, starting off with Ruben Östlund's Triangle of Sadness, the Cannes Palme d'Or-winning class satire starring our very own Dolly de Leon. It will be screened on the film festival's opening night on Nov. 17 at the Gateway Mall in Araneta City.
The event will run until Nov. 26 with To The North, a Venice Film Festival entry by Romanian director Mihai Mincan and starring veteran Filipino actor Soliman Cruz, as the closing film.
QCinema Festival director Ed Lejano and QCinema Film Foundation president Manet Dayrit officially unveiled the lineup of films during a press conference held recently at the SEDA Hotel, Vertis North.
A total of 58 films, including six short film production grantees, with seven sections of full-length films and three shorts programs, will be featured in the latest edition of QCinema. The winners for the long and short competitions will be announced during the event. This year's program will be "hybrid" with both in-person and online screenings.
Physical screenings will be held at Gateway, Trinoma, Powerplant, Cinema 76 and SM North EDSA, while the virtual screenings, exclusive for QCShorts 2022, QCShorts 2021 and RainbowQC Shorts, will be streamed on Vivamax from Nov. 22 to 26. Tickets are priced at P300 and P299 for theatrical and online screenings, respectively.
Competing in the Asian Next Wave section are two Filipino films — Anna Isabelle Matutina's 12 Weeks and Loy Arcenas' Elehiya. The latter is considered the last screen performance of the late iconic actress Cherie Gil, who passed away in August after a private battle with endometrial cancer.
12 Weeks, on the other hand, won the NETPAC award and the Best Actress honor for Max Eigenmann at this year's Cinemalaya. The lead star also happens to be Gil's niece.
The Asian Next Wave, which showcases the works of emerging filmmakers from Southeast Asia and East Asia, will include Ajoomma by Shuming He, Singapore's entry to the 95th Academy Awards or Oscars; Japan's Oscar entry Plan 75 by Chie Hayakawa, which is also a Cannes Golden Special Mention winner; and another Cannes entry, South Korean film Return to Seoul by Davy Chou.
The list also includes Thai film Arnold is a Model Student by Sorayos Prapapan, which had its world premiere at Locarno, and Autobiography by first-time Indonesian director Makbul Mubarak, which took home the FIPRESCI Prize in Venice this year.
Among the entries in QCShorts are Ang Pagliligtas sa Dalagang Bukid by Jaime Morados; BOLD EAGLE by Whammy Alcazaren; Luzonensis mula 7 hanggang 9 by Glenn Barit; Mga Tigre ng Infanta by Rocky de Guzman Morilla; Ngatta Naddaki y Nuang? (Why did the Carabao cross the Carayan?) by Austin Tan; and sa ilog na hindi nagtatapos by JT Trinidad.
For the Exhibition Sections, which includes the Screen International category, such award-winning films as Korean director Hang Sang-soo's Walk Up; Costa Rican filmmaker Valentina Maurel's I Have Electric Dreams; Iranian director Ali Abbasi's Holy Spider; Austrian filmmaker Marie Kreutzer's Corsage; and Belgian director Lukas Dhont's Close will grace the screen. This segment "showcases the world's renowned directors, whose distinctive styles make their acclaimed works undeniably their own."
Meanwhile, under the New Horizon section, which "heralds new directors and their acclaimed new works," featured movies are Saint Omer by Alice Diop, Venice Silver Lion Grand Jury Prize winner and France's Oscar entry; Utama by Alejandro Loayza Grisi, Sundance Grand Jury Prize winner and Bolivia's Oscar entry; and Next Sohee by South Korea's July Jung, the closing film of Cannes Critics' Week.
Two German films — comedy The Ordinaries by Sophie Linnenbaum and the offbeat fantasy film Piaffe by Anne Oren — also form part of this category.
Pakistani director Saim Sadiq's Joyland; Japanese director's Kasho Iizuka's Angry Son; Canadian co-directors Mark Slutsky and Sarah Watts' You Can Live Forever; and French director Alain Guiraudie's Stranger By The Lake are in the RainbowQC section.
Adding to the LGBT+ section, co-sponsored by the French Embassy Manila, are the films Portrait of a Lady on Fire, Billie And Emma and The Divide.
Shorts anthology, QCShorts 2021 Best Picture i get so sad sometimes by Trishtan Perez; QCShorts 2019 film Isang Daa't Isang Mariposa by Norvin delos Santos; 2021 silent film Alingasngas ng mga Kuliglig by Vahn Leinard Pascual; Dikit by Gabriela Serrano; and QCinema Asian Shorts film entry How to Die Young in Manila by Petersen Vargas are also in the RainbowQC Shorts program.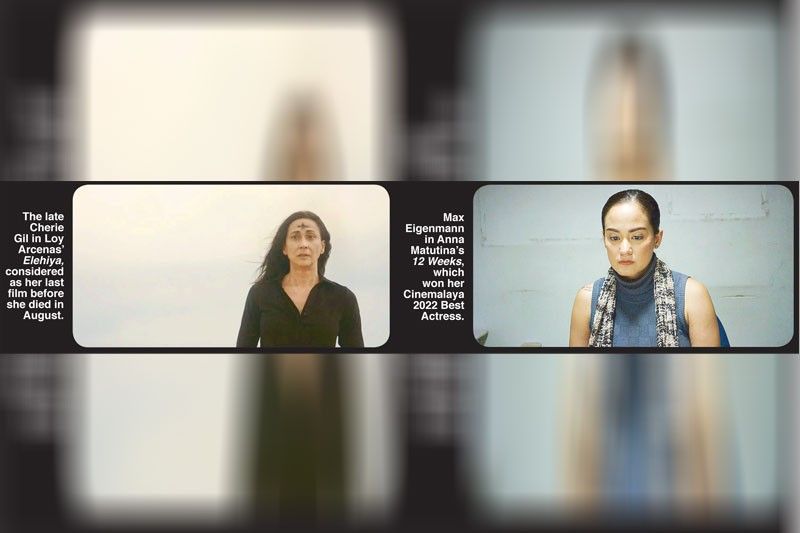 The films in the Special Screenings section are Mongolia's The Sales Girl by Janchivdorj Sengedorj, the top prize winner at the New York Asian Film Festival; Japan's Love Life by K?ji Fukada, Golden Lion winner at the 79th Venice International Film Festival; Arabic film The Damned Don't Cry by Fyzal Boulifa; and the Lav Diaz-directed John Lloyd Cruz starrer When The Waves Are Gone or Kapag Wala Nang Mga Alon.
There are three titles that will be shown in the Midnight Series segment. They are the Filipino-Irish production Nocebo by Lorcan Finnegan; Peruvian-Mexican film Huesera by Michelle Garza Cervera and Mona Lisa; and the Blood Moon by British-Iranian director Ana Lily Amirpour, starring Kate Hudson and Jun Jong-seo.
For the Digitally Restored Classics section, Mike de Leon's classic movie Itim (The Rites of May) topbilled by Charo Santos and Wong Kar-wai's romantic drama In The Mood for Love will be presented.
De Leon earlier announced the withdrawal of his film Kisapmata from the festival. Lejano and Dayrit kept mum on the issue when asked about it during the press event. "Unfortunately, direk Mike decided to put it out. Probably you have to talk to him," said Dayrit.
Moreover, a new festival section was launched this year called Advance Screenings. For this, 2022 Sundance Grand Jury Prize winner Nanny by Nikyatu Jusu (US) and 1985 by Santiago Mitre (Argentina) will be shown, in partnership with Amazon's streaming service Prime Video.
In cooperation with Warner Bros. Philippines, US director Maria Schrader's She Said and Italian director Luca Guadagnino's Bones and All, starring Timothée Chalamet, will be featured.
The Asian Shorts program also resumes with Dancing Colors by M. Reza Fahriyansyah (Indonesia); Lili Alone by Zou Jing (China), the 2021 Cannes Leitz Cine Discovery Prize winner; Four Nights by Deepak Rauniyar (India); The Headhunter's Daughter by Don Josephus Raphael Eblahan (Philippines), the Sundance Festival 2022 Short Film Grand Jury Prize winner; The Water Murmurs by Story Chen (China), the Cannes 2022 Palme d'Or, Best Short Film winner; and Papaya by Timmy Harn (Philippines).
Meanwhile, Quezon City Mayor Joy Belmonte, who started the city's film festival, said in a statement, "It (QCinema) has grown bigger and stronger beyond our dreams and much sooner than our expectations. It is like the making of a film, QCinema's growth has been a collaborative effort. While it started as a brainchild of mine 10 years ago, it took a whole city and the efforts of many sectors to propel it to what it is now, one of the country's most formidable film festivals."
QC Vice Mayor Gian Sotto noted in a message how QCinema has become a "milestone not only for QC but for the entire film industry (as well). As long as QCinema continues to be strong and stable, the industry will not only survive but (also) thrive."
He is excited for the new films to be shown, as well as "creative ideas and more importantly, the films that move. All I know is that, for sure, we are in for a lot of happy developments and surprises."
(Screenings schedules and other details about in10City, QCinema's 10th anniversary presentation, will be available via qcinema.ph and the social media accounts facebook.com/QCinemaPH, twitter.com/QCinemaPH and www.instagram.com/qcinemaph.)
!function(f,b,e,v,n,t,s)
{if(f.fbq)return;n=f.fbq=function(){n.callMethod?
n.callMethod.apply(n,arguments):n.queue.push(arguments)};
if(!f._fbq)f._fbq=n;n.push=n;n.loaded=!0;n.version='2.0′;
n.queue=[];t=b.createElement(e);t.async=!0;
t.src=v;s=b.getElementsByTagName(e)[0];
s.parentNode.insertBefore(t,s)}(window, document,'script',
'https://connect.facebook.net/en_US/fbevents.js');
fbq('init', '1894659447519136');
fbq('track', 'PageView');
(function(d, s, id) {
var js, fjs = d.getElementsByTagName(s)[0];
if (d.getElementById(id)) return;
js = d.createElement(s); js.id = id;
js.src = "https://connect.facebook.net/en_US/sdk.js#xfbml=1&version=v2.8&appId=1775905922621109";
fjs.parentNode.insertBefore(js, fjs);
}(document, 'script', 'facebook-jssdk'));



Source link